One of the boldest and most adventurous activities you can do alone or with your friends is backpacking.
Backpacking is a type of independent travel wherein you go hiking for miles, explore the deeper parts of nature, and carry all the necessities you're going to need for the journey. Usually, when you go backpacking, you won't need to spend much money other than your transportation (when necessary) or if you wish to stop over into affordable lodgings if you don't want to camp out at night.
Gearing Up For A No-Fuss Backpacking Excursion
Over the years, backpacking has become a popular form of tourism, inspiring more people to try it out themselves. Backpacking may first sound like an easy-breezy activity, but without proper and thorough preparation and training, you might end up encountering hassles during the trip.
Whether you're backpacking for a day or a week, here are some tips to help you prepare for a hassle-free backpacking trip. When you're well-prepared, you can ensure that the entire trip will be a fun, memorable, and successful experience for you.
1. Decide What Kind Of Backpacking Experience You Want
Before you get too excited about packing up your bag with the essentials, you need to decide first what kind of backpacking experience you wish to have. Some people are fond of going urban backpacking, while others are into backcountry backpacking. Keep in mind that the type of experience you'd go for will determine the things you'll need to pack, the route you'll need to take, and the transportations you'll need to book.
For instance, if you choose to go backpacking in the city, you'll need to check first the Greyhound bus schedule and other land transportation to ensure tickets and trip schedules are available on the day of your trip. Aside from that, since you're backpacking in urban areas, it may be unnecessary to pack tents and other camping gear with you since you'll be booking some affordable lodgings in the town.
On the flip side, if you plan to go backpacking on the deepest parts of the wilderness, you need to research ahead about how the terrain will be, or if you'll need to shuttle a car, or if you'll need to bring trail maps, or how many miles can you hike in a day. Since you'll be hiking deep into nature, then ensure you're also well-packed for the journey.
2. Gather All The Essential Supplies
Now that you've decided what to do and where to go for your backpacking trip, it's time to start preparing the essential supplies next. Make sure to gather everything you need as early as possible. It's never advisable to pack your bags just a day or a few hours before your trip; otherwise, you'd end up forgetting a lot of things. You can come up with a list and write down all the things you want to bring.
Then, you can practice packing and unpacking travel items in your backpack and try carrying them around. This way, once you're on your actual trip, working on your bag during the trip won't be new and puzzling for you. Moreover, the more times you check your essential items and their weight, the easier it'll be for you to recheck if you forgot to pack anything.
3. Prepare Yourself Physically And Mentally
While you're training yourself to get used to carrying and unpacking your backpack, it's also a good idea to do it while you're physically and mentally preparing yourself for the trip.
If you've noticed, some backpackers who work out in the gym would carry their loaded backpacks and wear them with them while hiking on a stair climber or a step mill machine. The goal of this workout is to keep your body's balance while you're carrying a heavyweight in your back and while climbing on steep steps.
This exercise also helps in strengthening your core muscles, boost your endurance, and practice your stability and balance. Remember that hiking with a heavy backpack is way different and a lot more challenging than simply hiking without one. If you're experiencing any physical pain during your backpacking training, always listen to your body, modify your training program, and get enough rest.
Aside from your physical preparations, you also need to prepare mentally. If you're starting to doubt yourself about the backpacking trip, find motivation by reaching out to experienced backpackers and ask them questions about their most recent trips. Most backpackers would be willing to open up their experiences to people, especially beginners. Their real-life stories, tips, and tricks can help ease your anxiety and minimize your stress levels.
4. Invite Friends To Tag Along With You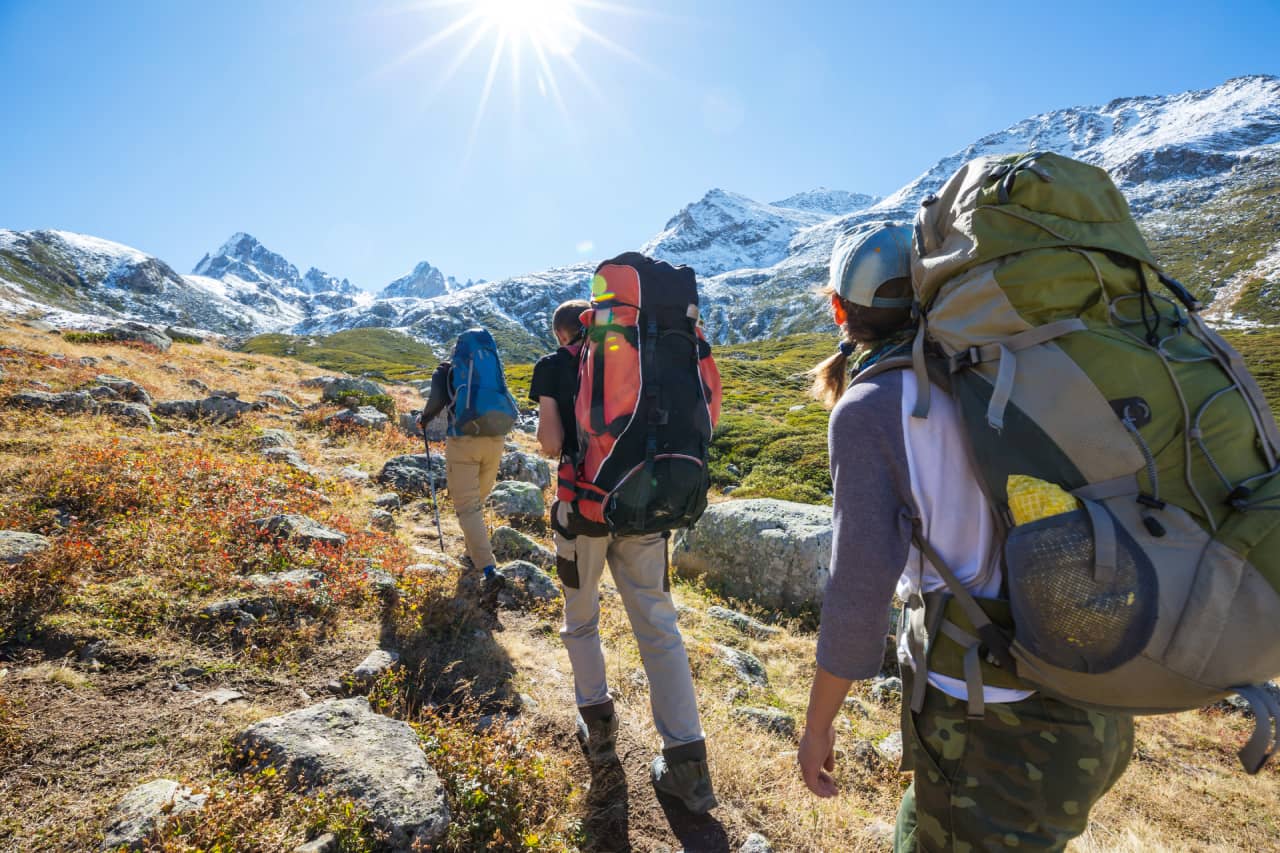 Unless you're a seasoned backpacker, it may not be a good idea to take your first-ever backpacking trip alone. Instead, you can invite your friends to come with you and together you can plan a backpacking trip.
Better yet, you can invite seasoned backpackers to go with you as their experience and expertise can significantly help you throughout the journey. They can answer all your questions or solve any unforeseen problems which you may encounter along the way. Most importantly, going backpacking in groups can make the experience more fun and exciting.
There are even group trips available if you don't personally know anybody you can ask to join you. It can help you save in money too.
5. Leave Important Information About Your Trip To Someone You Trust
Perhaps your mind and heart are set on taking the backpacking trip alone. For safety's sake, don't forget to leave any important details and plans about your trip to your family or someone you trust. Always remember to relay the specific information like where you're off to hike, your estimated arrival, the place where you want to spend the night, and when you'll be back from the trip. You'll never know what could happen during your trip, so it's best to be prepared for anything.
If you encounter any trouble or aren't able to get back home on time, your trusted person can report your important details to the authorities to aid in locating your exact location. An additional tip, always do this whenever you go on a backpacking trip, not just during the first time.
6. Bring Enough Water And Food
Lastly, the amount of water and food you bring will depend on how long your trip will be and what route you will take. For instance, if you're backpacking in the city, you may not need to worry about carrying gallons of water and lots of food since the town is filled with water resources and food stalls. However, you can bring your water filter and one large water bottle so you can refill it anytime.
Meanwhile, if you're hiking into the wilderness, it may be best to research your route and check on how long the next water stop is. If it's too far, ensure to bring loads of water but not too much that might weigh down your backpack. You can also research some easy-to-cook camping recipes if you're backpacking in the backcountry.
Wrapping Up
Preparing for your backpacking trip should never be done in a rush, especially if it's your first time. Remember that backpacking is like traveling while carrying a backpack loaded with everything you need to survive.
Going on a trip unprepared can put you at risk of dangers and unforeseen mishaps. So, take time to plan your route, analyze your essential belongings, transportation, and other important details. After your adventure, you can even write about your experience and share it to the world.